Babylon Cloud helps businesses digitalise their business processes with a user-friendly interface to access your files from any device. Our platform includes  features in one single solution: highly performant backups, shared folders, sync on unlimited devices, file transfers and massive restores of data.
We offer a flexible and fully customisable technology and Data Centers in EU to respect user privacy and security fully.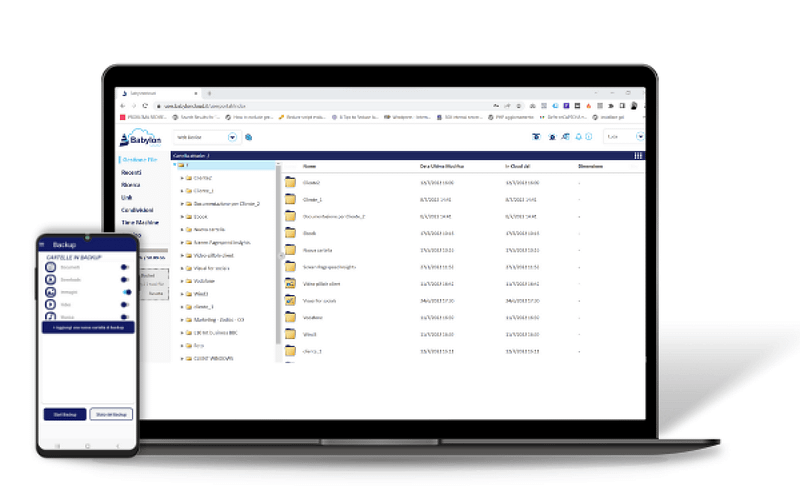 The advantages of our technology

A proprietary and highly resilient infrastructure. All components are redundant, guaranteeing maximum security of the data stored. Plus, Babylon Cloud's infrastructure can scale infinitely, allowing you to increase your cloud storage anytime. 
The highest level of safety and military-grade security on the infrastructure. Protect your data and guarantee business continuity.
The highest level of GDPR compliance. We respect the most stringent standards on privacy and user data protection. 
The highest level of data security in the event of hacker attacks or disk brokerage. Restore all files and folders with no time limitations.
Enjoy automatic and customisable backups, guaranteeing the highest flexibility levels of use on all your devices.
Sync all your devices in real time and share files and folders with colleagues and clients from any device. 
Collaboration
Do you need a storage, backup or sync&share solution in the cloud? Find out how Babylon Cloud helped many companies improve their performance and productivity while protecting your data in the cloud and enabling full file recovery even in case of ransomware.
Read the use case
Babylon Cloud is a flexible and versatile solution for SMBs, freelancers and corporates of every sector.
Thanks to performing and fully customizable backups, a safe collaboration tool and unlimited devices per user, Babylon Cloud offers all the peace of mind and security you need to manage your files without ever stopping your business.